Tickets & Supplies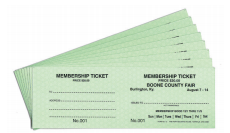 Looking for custom tickets? You've found the place! We make every kind of ticket- in house, and we are the only printers in the industry who offer our own anti-counterfeit ticketing system. We can and do, stop counterfeiters in their tracks- our system can save you from substantial entry losses.
We also offer a wide variety of standard and custom wristbands. We can put your logo/event, numbers, anything you'd like, on one of our many wristband options.
Looking for entry tags? We make all kinds, even the kind YOU can print.
And a little bit of everything else...from numbers to parking signs, receipt books and flags- we have everything you need!